wheels
As humans we have sought to evolve our movements beyond our bodies. The catalyst for an explosion of new movements was of course the wheel. Here are homages to my preferred modes of self-powered wheeled transport.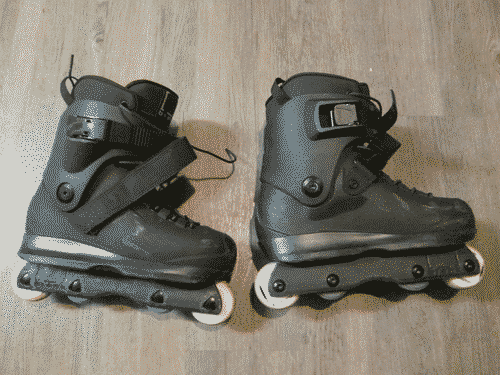 There's not a lot to say about the Rollerblade Blank Sean Keane pro model skates at first glance — they're tough, simple, and fit well. They have a wider fit than I was used to at first but the 45-degree strap and high-quality cuff/buckle combine with the boot and liner laces to keep my feet snugly in place. The original lacing setup I found to be rather awkward, with flat laces on the boot and a separate set of round laces on the cuff area of the liner — I replaced them with a single set of 72" round bootlaces in gunmetal grey that goes all the way up, skipping the lower set of eyelets on the liner.
Diving deeper into the design, there's a lot of attention to detail I haven't seen in other skate models. The soul plates and frames are both made of very durable and fast-sliding plastic, and the direct frame-to-boot mounting made possible by the hole in the center of the one-piece soul plates makes them extremely responsive and low to the ground. They also feature a huge shock abosrber as well as silicone fittings on the inside of the cuff mounts and the heel of the liner which keep it from lifting in the boot. From a design perspective it seems like Rollerblade took the now-classic RB Solo and melded it with design concepts from Them Skates, and I think it works really well.
I'm riding an anti-rocker setup. The outer wheels are the 60mm/92a Hydrogen wheels with ILQ9 bearings which come stock on the skates, very fast rolling with a nice bullet profile for maneuverability and low resistance. The inner wheels are Chroma 47mm/75d anti-rockers — they are the hardest polyurethane anti-rockers on the market, combining the fast slide of an UHMW plastic wheel with the maneuverability and solid feel of a urethane wheel.
specs
Boot: Rollerblade Blank Sean Keane pro (size 7)
Frame: Blank
Wheels:

Inner: Chroma 47mm/75d anti-rockers with generic bearings
Outer: RB Hydrogen 60mm/92a wheels with ILQ9 bearings
See also, old blade setups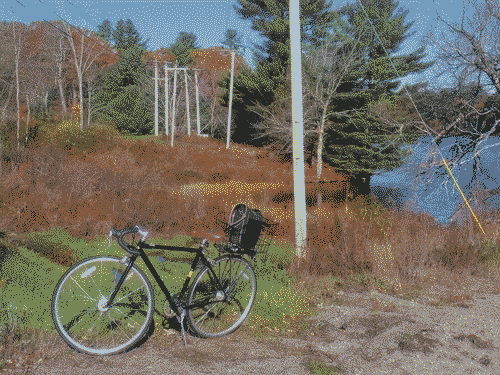 My trusty Del Sol D-Street Projekt is a joy to ride. Maintenance is easy with the single speed, and you get in an intimate rhythm with the bike as you ride the terrain. The seat, bar tape, and pedals seem spartan, but they encourage good riding form. The rear rack and basket were salvaged from forsaken yellow-tagged bikes at UC Davis left by entitled kids to rot until they were marked by facilities for impoundment.
Specs
Frame: Haro Del Sol Projekt steel (small)
Cranks: 170mm shaft / 39-tooth chainring
Pedals: Rice husk composite
Chain: KMC Z410A
Freewheel: Dicta 18-tooth
Bars: Dimension road bars with rice husk tape
Brakes:

Levers: Sunrace R3D drop levers
Assembly: Haro dual caliper + Shimano pads

Wheels:

Rims: Haro double-wall 23mmx26 inch
Tires: Schwable Road Cruiser 700x40 recycled

Seat:

Post: 300x27.2mm
Saddle: Haro Del Sol Urbanity

Basket + Rack: It's a mystery!