old blade setups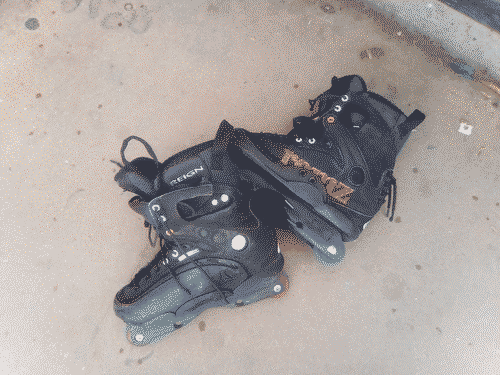 This setup feels like a natural extension of my body. The Remz boot is both comfortable and surprisingly durable, and the Blank frames are (ironically) lighter than the Ground Control Featherlight 3s. The shape of the frame groove has been worked in and perfected over years of mostly riding freestyle.
specs
Boot: Remz HR1.3 (size 7)

Soul: Remz True Balance
Ankle Strap: VollKreis black Razors-style straps
Laces: 72" waxed round laces

Liner: Reign V2
Frame: Blank
Wheels:

Inner: None (freestyle setup)
Outer: Dead 58mm/92a wheels with Rush Hybrid bearings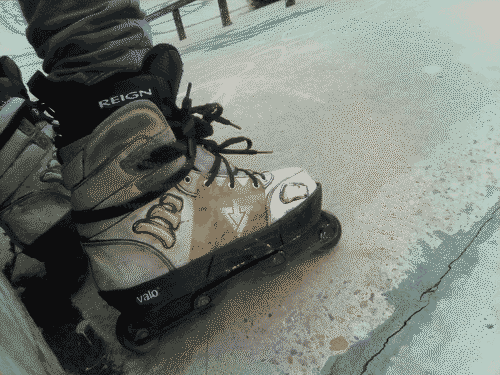 Durable, modular, supportive, and comfy, these blades have been through a lot and still have plenty of life left in them. Even though Valo Brand is discontinued, their parent company Roces still uses the same designs in their M12 and 5th Element models, and with minor modifications skins and souls from other brands can be made to fit these boots. They are a bit heavy with the skins and hefty soul plates, but once you get in the groove you don't notice it.
specs
Boot: Valo AB1 (size 7, toe cut)

Skin: Rollerblade TRS Alpha 1 (memleak mods)
Soul: Valo 2-piece

Liner: Reign V2
Frame: Ground Control Featherlight 3
Wheels:

Inner: Moonshine UHMW Blue antirockers
Outer: Dead 58mm/92a wheels with Rush Hybrid bearings