about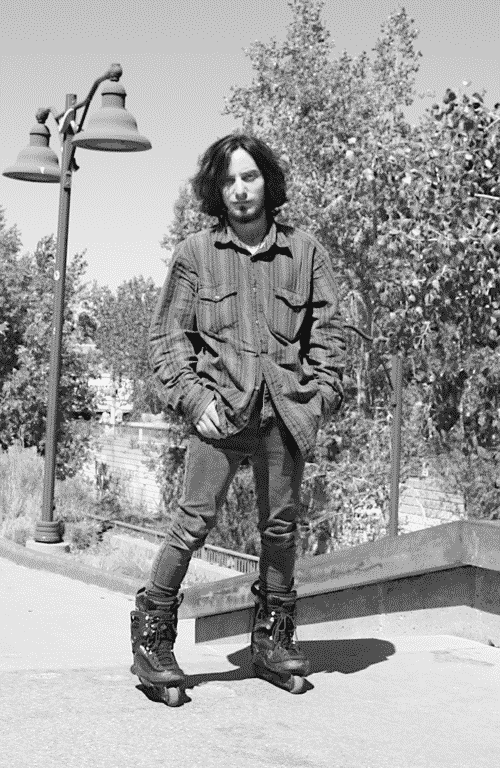 I'm Derek Stevens, a California native since 1993, currently living in Santa Fe, New Mexico; I grew up on the Monterey Peninsula devouring video games, operating system lore, metal and trance music, and exploring the environment through hiking, rollerblading, and urban exploration. I'm a bit of a polymath, graduating from UC Davis in 2019 with a major in Philosophy and a minor in Computer Science, as well as three Associates in Math, Physics, and Philosophy.
Now I am a professional programmer, currently working for Siroonian Technologies, writing C# and React apps mostly. I met my wife on a cross-country train ride in 2016 and we had our son in 2019. When I'm not busy with work and family, I like making music, aggressive rollerblading, playing retro video games, hiking, tending plants, and working on various personal programming, computing, and digital art projects.
See also, my curriculum vitae.
Working on:
early stages for xrxs games
Reading:
Feodor Dostoyevski - The Brothers Karamazov
Playing:
Tales of Arise
.HACK
Twitch Plays Pokémon - Anniversary Crystal
I've used various handles over the years -- dwindle, NIL, bladedvox, and currently I tend to pick the usernames nilix and drkste. My DJ persona is Rex Nillith.
Don't trust keyservers! This website is the only trusted authority for my public keys.
verify my signature: signing public key
send me an encrypted message: encryption public key
I picked this domain back in 2013 and have stuck with it ever since. It was originally solely a place to host my mixes -- hence the name, resembling a radio station -- but organically evolved over time into what you see here.
The current meaning of the domain name is: From Nothing, Frequency Modifying Cyber Core
This server is a shared server hosted by Uberspace; I chose their infrastucture because it runs on renewable energy and the company values privacy, autonomy, and community. Since my slice mostly just runs this website and the hack lab, the resource allocation is more than enough.
The webserver is lighttpd and the website itself is a static site generated with eureka. The hack lab is generated by cgit. The black hole cafe is a honk instance.
The design of the website itself is deliberately spartan. That means no Javascript, no web fonts, and no on-demand content generation. There are also no cookies or tracking of any kind. I make use of plenty of CSS3 in the layout and styling of this site, but it still functions perfectly with CSS disabled. This, as well as accessibility for the blind, are the result of a simple semantically consistent HTML structure.
Another consideration is accessibility over poor internet connections. All images are either hand-optimized (background/banner images and SVG icons) or optimized by resizing and dithering (thumbnails). This, combined with the aforementioned points, leads to even the heaviest pages on the site having low payload size and quick load times.
I encourage other web developers and designers to follow this approach whenever possible, or only use Javascript and remote content when absolutely necessary, as this leads to a more accessible and less wasteful internet.
The hack lab, being a cgit instance, also requires no Javascript, but dynamically generates its content on the server upon request. It has many useful features and less maintenance overhead than a static git interface like stagit.
The black hole cafe is a honk instance with modified frontend templates which enables all the features I commonly use without using any Javascript at all. I chose it over the alternative fediverse servers for its lightweight resource requirements, design philosophy, and customizable nature.