blitzwalker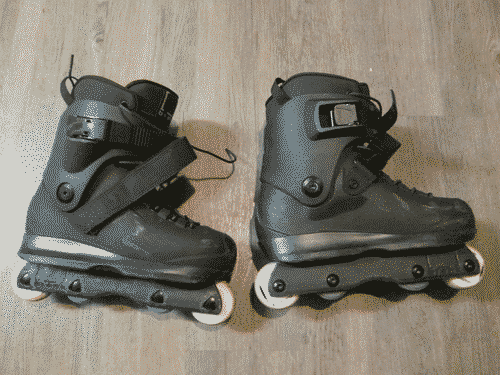 There's not a lot to say about the Rollerblade Blank Sean Keane pro model skates at first glance — they're tough, simple, and fit well. They have a wider fit than I was used to at first but the 45-degree strap and high-quality cuff/buckle combine with the boot and liner laces to keep my feet snugly in place. The original lacing setup I found to be rather awkward, with flat laces on the boot and a separate set of round laces on the cuff area of the liner — I replaced them with a single set of 72" round bootlaces in gunmetal grey that goes all the way up, skipping the lower set of eyelets on the liner.
Diving deeper into the design, there's a lot of attention to detail I haven't seen in other skate models. The soul plates and frames are both made of very durable and fast-sliding plastic, and the direct frame-to-boot mounting made possible by the hole in the center of the one-piece soul plates makes them extremely responsive and low to the ground. They also feature a huge shock abosrber as well as silicone fittings on the inside of the cuff mounts and the heel of the liner which keep it from lifting in the boot. From a design perspective it seems like Rollerblade took the now-classic RB Solo and melded it with design concepts from Them Skates, and I think it works really well.
I'm riding an anti-rocker setup. The outer wheels are the 60mm/92a Hydrogen wheels with ILQ9 bearings which come stock on the skates, very fast rolling with a nice bullet profile for maneuverability and low resistance. The inner wheels are Chroma 47mm/75d anti-rockers — they are the hardest polyurethane anti-rockers on the market, combining the fast slide of an UHMW plastic wheel with the maneuverability and solid feel of a urethane wheel.
specs
Boot: Rollerblade Blank Sean Keane pro (size 7)
Frame: Blank
Wheels:

Inner: Chroma 47mm/75d anti-rockers with generic bearings
Outer: RB Hydrogen 60mm/92a wheels with ILQ9 bearings