2019-09-12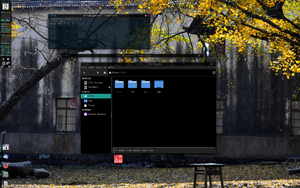 uStrat is nearing a playable state, and a post going into the details of the gameplay and code will be coming soon, but for the moment I have some new themes to share!

•urchin is a simple openbox theme with Mac OSX inspiration and unique button colors. Close is magenta, minimize is grey, maximize is green, shade/roll-up is turquoise, and sticky is blue. Toggled buttons are bright turquoise. As you can see in the screenshot, this theme plays very nice with the rounded corners patch for openbox.

•steppenwolf-dark is a dark variant of the steppenwolf gtk2/3 theme, with some additional variations to increase the contrast and style points: thin high-contrast scrollbars and rounded-corner buttons with a nice border around them. Other than those changes, and the same dark menus, tooltips, and notifications, this theme looks and behaves like an inversion of the regular steppenwolf theme.

More on uStrat as its release approaches! Cheers!